It's been one year since 14-year-old Brandon McInerney walked into his classroom in Oxnard, California and gunned down his gay classmate Lawrence King.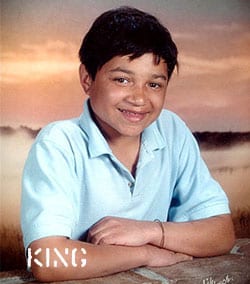 Yesterday I posted about a brief filed by the prosecution in response to an appeal by teen killer Brandon McInerney's attorneys which said that prosecutors had "abused their discretion by charging (McInerney) as an adult." Today, more details have come to the light surrounding that brief.
Deputy Dist. Atty. Maeve Fox, yesterday: "In the days before the shooting, the defendant tried to enlist others to administer a beating to Larry. When that failed for lack of interest, he decided to kill Larry. It was an absolutely brutal crime, with premeditation and deliberation. He was familiar with firearms and had fired that gun before. He knew what he was doing."
The L.A. Times reports: "In her statement of facts, Fox contends that King and McInerney had an acrimonious relationship for months prior to the shooting. They sparred with 'typical 8th grade, back-and-forth insults; some sexual, some not,' she wrote. Witnesses said King was usually not the aggressor. But after months of teasing by McInerney and other male students who called him 'faggot,' he had began to retort, according to prosecutors. The day before the shooting, the two boys were bickering during seventh period. When King left, a student witness said that McInerney commented, 'I'm going to shoot him.' Just after that class, another student heard King say 'I love you' to McInerney as they passed in a hallway. The same student then heard McInerney say he was 'going to get a gun and shoot' King, according to prosecutors. A few minutes later, prosecutors allege, McInerney told one of King's friends: 'Say goodbye to your friend Larry because you're never going to see him again.' The prosecution brief also reveals for the first time that McInerney was familiar with firearms, and that he had used that particular weapon in the past during target shooting with his family. Investigators found a training video in his possession titled 'Shooting in Realistic Environments,' as well as skinhead and neo-Nazi books and similar writings from the Internet, prosecutors wrote."
A vigil is being held today in Ventura, California. The vigil begins at 6 p.m. at 856 E. Thompson Blvd., Ventura.
In memory of King, we revisit Ellen Degeneres' powerful, emotional statement about the killing. Watch it, AFTER THE JUMP…
Lawrence King: One year later [ventura county reporter]