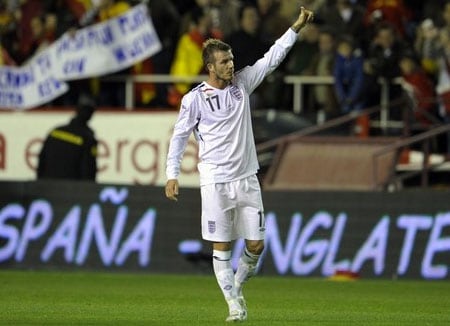 In a friendly match between England and Spain on Wednesday, football fans chanted "Beckham maricón" from the stands. "Maricón" is the Spanish equivalent of "faggot." The homophobic chanting was reported to FIFA and the English FA by the Gay Football Supporters Network.
Law enforcement officials have taken a hard line in recent months against homophobic chanting at football games. Eleven people were recently arrested after homophobic chants directed at Portsmouth player Sol Campbell during a game against Tottenham Hotspur. The perpetrators were identified in photos of the crowd.
Said GFSN campaigns officer Chris Basiurski: "Homophobia is still rife in football and it as great to see so many different groups committed to doing something about it. It became obvious very quickly the UK has progressed further on this issue than the rest of Europe, mainly due to the cooperation of the English FA and we look forward to working with the other European gay football groups in the coming years. This week's homophobic abuse of David Beckham at the Spain v England international highlights the need for action and in the long term we hope to show that such behaviour is not acceptable."
Watch a video of the chanting, AFTER THE JUMP...