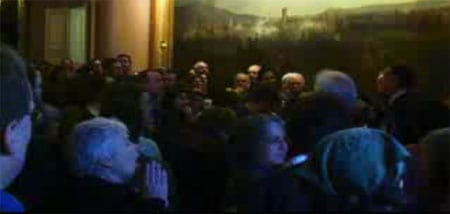 Vermont Governor Jim Douglas, who said earlier this week that he would veto a same-sex marriage bill which is likely to reach his desk, sat in his office this morning at the Vermont state house while 300 people held a rally in the adjacent room, the Burlington Free Press reports:
"He met for about 10 minutes with a handful of same-sex marriage supporters, but they came away unsatisfied. 'I don't believe we made any headway,' said Sandi Cote-Whitacre of Georgia Center. The crowd of supporters at the Statehouse cheered senators and promised to continue their push to provide equal rights to same-sex couples as those of heterosexual married couples."
A brief highlight clip of some of the speakers at the rally, AFTER THE JUMP...

A longer, 45-minute clip at Burlington Free Press…