Miss California Carrie Prejean, who came in second place over the weekend in the Miss USA beauty pageant after Perez Hilton asked her if states should follow Vermont and Iowa's lead in legalizing same-sex marriage, says she "feels like [she] won."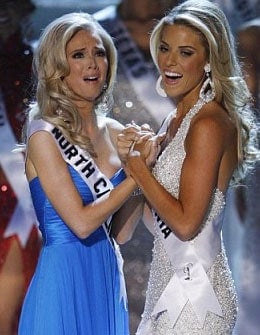 Why? Because she has had 2,000 friend requests on Facebook and she stood up for her bigotry.
She told Access Hollywood's Billy Bush that her sister, who is not gay, is a gay rights activist. Said Prejean: "She supports gay people, she supports gay marriage. My beliefs have nothing to do with my sister or my mom, or whatever. She was just in my hotel room and she said, 'Sis, I'm not offended by anything that you said. We have two different opinions and I love you because of it. I love you because you stood up for what was right, and it's not a matter of being gay or not gay, it's a matter of you competing for Miss USA and getting a question and answering it to the best of your ability."

Added Prejean:  "It did cost me my crown. I wouldn't have had it any other way. I said what I feel. I stated an opinion that was true to myself and that's all I can do. "It is a very touchy subject and he is a homosexual and I see where he was coming from and I see the audience would've wanted me to be more politically correct," she added. "But I was raised in a way that you can never compromise your beliefs and your opinions for anything."
Audio, AFTER THE JUMP...