2009 Pulitzer Prize winners announced.

Stem cells to cure most common form of blindness: "Surgeons predict it will become a
routine, one-hour procedure that will be generally available in six or seven
years' time.
The treatment involves replacing a layer of degenerated cells with new ones
created from embryonic stem cells. This week Pfizer, the world's largest pharmaceutical research company, will
announce its financial backing to bring the therapy to patients."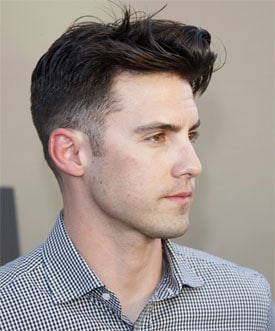 Milo Ventimiglia brings back 50's cut…

Got Talent: Britain has Susan Boyle, while Sweden has Naked Boys Dancing.

Education Secretary Arne Duncan recognized Friday's Day of Silence.

Madonna falls off horse, blames paparazzi.

Parents of gay children come out of the closet in China…

Kelly Clarkson does not hook up – video.

Bishop Gene Robinson: Civil and religious marriage should be separate. "In this country, it has become very confusing about
where the civil action begins and ends and where the religious action
begins and ends, because we have asked clergy to be agents of the state."

Bluefin tuna to be extinct by 2012?

Morrissey has meltdown over smell of grilled meat at Coachella.


Lady GaGa refuses to reveal anything about her teacup.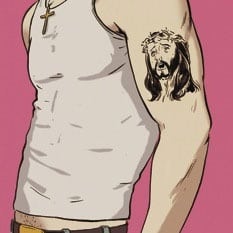 Paul Rudnick responds to Ted Haggard as fellow-heterosexual-with-issues Pastor Stan Belker: "As a teen-ager, I found that I was attracted both to serving Our Lord
and to Jimmy Wiggins, the assistant coach of my high-school soccer
team. I was in torment, and I would pray for hours on end, asking God
why He would command me to love Him so deeply and at the same time just
go and create Jimmy's snug little soccer shorts."

Stephen Hawking "very ill" according to Cambridge University.

Gay controversy on UK version of The Apprentice as one contestant wants to re-brand the British seaside town of Margate as a gay resort and a teammate tells him she'd never let a homosexual come near her son.

Rice University survey shows growing support for gay rights.

Gawker Headquarters seating chart.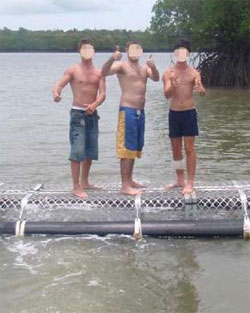 Australian crocodile bait.

Sacha Baron-Cohen apologizes to Madonna over adoption gag: "Madonna was said to be upset at a scene in Bruno's forthcoming film which mocks her attempts to adopt an African baby. And
we hear that shame-faced 37-year-old Sacha has sent her a bouquet of
flowers to apologise.  An insider said: 'Sacha is always out to make
great comedy – and if he upsets people along the way, so be it. But
when word reached him that Madonna thought his sketch was insensitive,
he sent her a bouquet of flowers to say, 'No hard feelings'.'"

Some super slo-mo beauty.

Anti-gay hate crime convictions in Wales double in three years.

Iowa Republicans claim advisory that state recorders must perform same-sex marriages comes across as "veiled threat": [Victoria Hutton of the Iowa Department of Public Health] wrote in the e-mail: 'Following is the response from our attorney from
the Iowa Attorney General's office. All county recorders in the state
of Iowa are required to comply with the Varnum decision … and to
issue marriage licenses to same sex couples in the same manner as
licenses issued to opposite gender applicants.'"