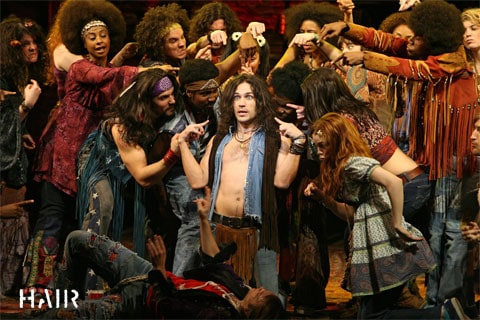 KEVIN SESSUMS
Kevin Sessums recently interviewed Jane Fonda and Moises Kaufman about the new play '33 Variations' for Towleroad, and recently reviewed the plays Our Town, The American Plan, and Ruined. You can also catch up with Kevin online at his own blog at MississippiSissy.com.
I have been remiss lately writing my theatre reviews. I've been quite busy with other work as well as planning a five-week trek in northern Spain. Before I leave today for the trek, I thought I'd let you know about some of the great performances I've seen lately. I can't remember a theatre season in which there have been so many stunningly good performances, both individual ones as well as those given by a play's or musical's ensemble.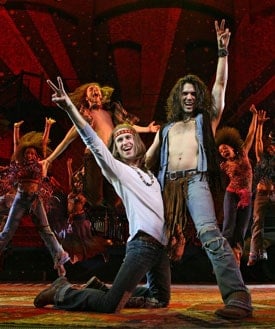 First off, ensembles to catch:
There is no more ... well .. blissful time to be had on Broadway than the "happening" going on at the Al Hirschfeld Theatre where the revival of Hair is playing to packed houses. As a kid I listened to the original cast album over and over and over and I realized, while smiling through this revival, that I still know every lyric in the score. Sexy and moving and great fun, it will send you home dancing in the streets. It will bring back your own memories of listening to the score, I'm sure, or create new ones for you by seeing this wonderful revival. My sweetest one involved my grandmother, who raised me, always complaining about how dirty the lyrics were as I blasted them from the stereo in our country home back in Mississippi and asking me to turn off the record every time I played it. But then — quietly, unhurriedly — I'd hear her humming the Hair score to herself when she was shelling peas from our garden or reading her daily Bible passage. Go to the Hirshfeld and — quietly? unhurriedly? — let your own sun shine in. And just for the record: I adore Gavin Creel who plays Claude.
A totally different evening is Neil LaBute's slightly kinder version of his off-Broadway hit, Reasons to be Pretty. The cast has been reconfigured since its off-Broadway run but it's even better than before. Marin Ireland and Thomas Sadoski are particularly funny and surprisingly touching as the woman who isn't pretty enough because the man she loves says so. It been beautifully directed by Terry Kinny.
God of Carnage, Yasmina Reza's latest French boulevard comedy (translated by Christopher Hampton) may be the play with the best ensemble on Broadway. Jeff Daniels, Hope Davis, James Gandolfini, and especially the great Marcia Gay Harden are giving an acting lesson in comic timing in this rather slight play. Indeed, I think Reza is the empress-with-no-clothes. Without these actors and the expert direction of Matthew Warchus, the play would be quite tiresome and a chore to sit through, much like her Art and Life x 3. The cast, however, is sublime. I've never laughed out loud so much at such hoary setups. It's the hit of the season. Ninety intermissionless minutes of urbane savagery.
The emperor who majestically wore the clothes - playwright August Wilson - is receiving a production of his greatest play, Joe Turner's Come and Gone, at the Belasco that again is an acting lesson as we watch the play's ensemble do its work. I might give the God of Carnage crew a bit more credit since they have to deal with overcoming the play. The ensemble at Joe Turner have to rise to their play's level and are able to ride its greatness which, at first blush, is found in its language. Whereas, the cast of God of Carnage is giving us a jazzlike fugue of marital mayhem, the cast of Joe Turner is a symphonic orchestra of history and religion and some August region past heartbreak that seers the soul.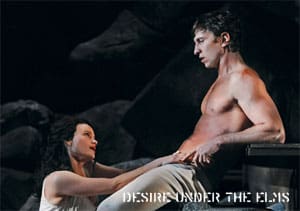 Another master, Eugene O'Neill, is represented on Broadway in a literally stripped-down version of his Desire Under the Elms. Director Robert Falls has trimmed it to a carnal 100 minutes. The three leads - Brian Dennehy, Carla Gugino, and Pablo Schreiber — are giving volcanic performances. They have to in order to fill the St. James Theatre's vastness. The set would look at home on the Met's stage as would those performances. It's basically a play about greed but in this production the physical desire is amped up. And Pablo Schreiber — for those of you who, like me, find him incredibly sexy — keeps his shirt off most of the time and his nude scene got me in touch with my own greedy desires. It's the kind of production that takes the time — though it's set in the 1920s — to pipe in a whole Bob Dylan song as the cast goes about its expert business on stage. As odd as it is, it's a better use of Dylan than anything Twyla Tharp came up with in her disastrous musical a few seasons back based on his music.
Much more, AFTER THE JUMP...
Now for the actresses.
Aside from Marcia Gay Harden — who's my favorite to win the Tony for
Best Actress in a Play — there are several performances I must mention.
Janet McTeer and Harriet Walter, as Mary Queen of Scots and Queen
Elizabeth I respectively, are living up to all the hype that preceded
them regarding their performances as the battling royals in Peter
Oswald translation of Schiller's Mary Stuart. And Jane Fonda is living
up to the legend of her DNA with a stunningly dignified return to the
stage in 33 Variations. She overcomes some the hackneyed aspects of
Moises Kaufman's play that's a lot like a Lifetime movie. Kaufman
serves as his own director and he's a better conceptual artist than he
is a writer. I would love to see him direct a production at the
Metropolitan Opera or, better yet, Glyndebourne. I've heard rumors
that he and puppeteering genius Basil Twist might be working on an idea
for an operatic production.
Three of the best musical performances by actresses include Karen Olivo
who is magnificent as Anita in Arthur Laurents' quaint production of
West Side Story. I'm one of this revival's detractors. The Spanish
speaking sections he has inserted into the show seem just that:
inserted. It ends up sounding more Spanglish at times than Spanish
which just ends up being unintentionally insulting to The Sharks
portion of the show. And I had a problem with Matt Cavenaugh at the
center of the show as Tony. Though he does a beautiful rendition of
"Maria," the rest of the time I felt as if I were watching a
performance of Tony at a meteorologist convention.
And then there is the great Alice Ripley reprising her role as the
bipolar Diana, whose grief overwhelms both her and the audience in Next
to Normal. I predicted this show would move to Broadway when I saw it
at Second Stage last year. The creators have streamlined the show from
its earlier version — cutting the big closing number of the first act
about shock treatment which I referred to as its "Springtime for
Hitler" moment — and it is now even more heartrending in its simpler
takes on mental illness and loss and what together they can do to a
family.
Currently at Second Stage, the shockingly talented Sherie Rene Scott is
starring in Everyday Rapture, a show about her life as a Mennonite back in Topeka and her
journey to musical stardom on Broadway. It borders on crassness at
times with its production values but Scott's tenderness is able to cut
through a lot of the clutter. I saw a scene from the show a few months
ago in a rehearsal studio. Scott simply sat on a stool with a piano
accompanying her instead of the crashing sounds of the combo that now
backs her. I was much more moved by the complexity of the emotions in
that simpler environment than I was in this production, overly directed
by the usually reliable Michael Mayer.
If you want to see a great comic performance, check out Kristine
Nielsen in Christopher Durang's Why Torture is Wrong and the People
Who Love Them. Nielsen's wacky take on Durang is part Charlotte Rae,
part Billie Whitelaw, who was Beckett's greatest interpreter.
There is one great male performance I'd like to end with – Geoffrey
Rush in Exit the King. It's great clowning raised to the level of King
Lear. The technique is always visible but so is the absurdity of such
deeply felt pain. It's a stunning achievement.
Recently reviewed…
On the Stage: Our Town, The American Plan, and Ruined [tr]
A Conversation on 33 Variations: Kevin Sessums Talks to Jane Fonda and Moises Kaufman [tr]
On the Stage: Becky Shaw and The Third Story [tr]
On the Stage: Pal Joey and Hedda Gabbler [tr]

On the Stage: Billy Elliot, Shrek, 13, and Prayer for My Enemy [tr]

On the Stage: Back Back Back and Farragut North [tr]