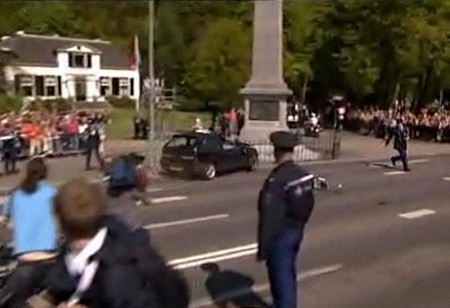 Six people including the driver of a car targeting the Dutch royal family were killed as the car swerved through a crowd of people striking a monument during a Queen's Day holiday parade yesterday.
The Guardian reports: "The suspect, a 38-year-old man identified by Dutch media as Karst Tates, had been in a critical condition since the attack during the Netherlands' Queen's Day holiday yesterday. Tates told one of the first police officers to rush to his car that the attack was aimed at the royal family, prosecutor Ludo Goossens said. Neighbours in the village of Huissen told Dutch media he had been fired from his job as a security guard and was facing eviction from his home. But police said he had no history of mental illness or criminal record. Twelve other people were hurt when Tates rammed his car through police barricades and into onlookers towards an open-topped bus carrying Queen Beatrix. The car ploughed through police cordons metres away from the royal bus before crashing into a stone monument to the late Queen Wilhelmina."
Watch video, AFTER THE JUMP...