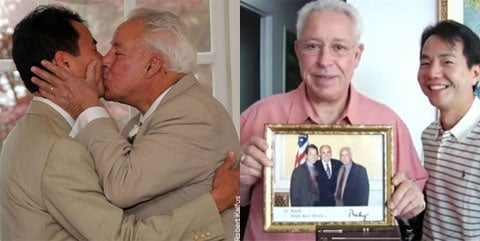 Howard Koeppel and Mark Hsiao, the New York couple who housed former mayor Rudy Giuliani for six months during his messy split with wife Donna Hanover, were married in a ceremony in Westport, Connecticut yesterday.
Giuliani "was a last-minute no-show," the New York Post reports. Said Koeppel: "Rudy and Judith were both invited with a beautiful written invitation by mail. His secretary called Thursday and said he was not able to come to the wedding and wished us all the best." In a follow-up blurb, the couple "shrugged it off" and blamed it on politics.
Koeppel and Hsiao recently defend Giuliani's anti-marriage-equality statements when the former Mayor said he'd make it a campaign issue should he choose to run for governor next year: "He isn't an advocate for gay marriage because of his religious beliefs. He is a traditional Catholic. Those teachings say marriage should be between a man and a woman."
The NYT published their wedding announcement on Saturday. Boy Culture has some analysis of the video which accompanies it, which you can watch, AFTER THE JUMP...