I posted this as an update to a post about the furor over the DOMA brief yesterday, but it's significant enough that the former head (during the campaign) of the Obama LGBT Leadership Council Stampp Corbin pulled out of the Democratic LGBT Fundraiser yesterday. He writes on his blog: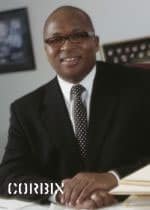 "Someone get me a Prozac. I ask, 'Mr. President how can you argue for the legality of DOMA, when you are for its repeal?' You really are talking out of both sides of your mouth and my community knows it...Unfortunately, I will see everything that the Obama administration does for LGBT Americans through the lens of the DOMA brief. Meaning, I will be waiting for the other proverbial shoe to drop, while praying President Obama delivers on his promises...Mr. President, your DOMA mistake awakened a sleeping giant. He is mad as hell and is not going to take it anymore. You better get LGBT affirming legislation moving quickly or the coffers of the LGBT community will be slammed shut on the fingers of your administration and the DNC. You and the DNC may find themselves asking about our donations 'if not now, when' as we have been asking about our rights for the last few months."
Corbin's position is a distinct change of heart from the one he took a week ago right after the brief came out when debating Dan Savage on CNN. That video, AFTER THE JUMP...