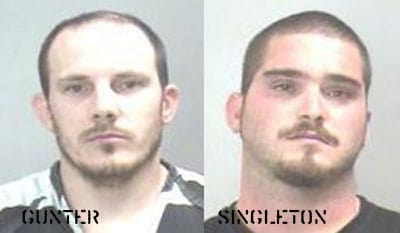 Bobby Singleton was sentenced to 75 years in prison (15 more than requested by prosecutors and twice the length of his accomplice Jonathan Gunter) for the July 2008 assault on Jimmy Lee Dean, which left Dean disfigured and forever changed. Singleton and Jonathan Gunter beat Dean and then kicked and stomped on him as he lay unconscious in the street in Dallas' Oak Lawn neighborhood. Gunter was sentenced to 30 years in prison in March.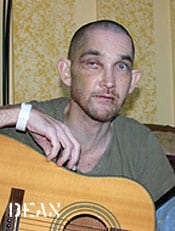 The details that came out in court this week of Singleton's actions were horrific:
"Dallas County jurors convicted Bobby Singleton of aggravated robbery Wednesday and later heard the recordings of the phone call from jail during the punishment phase of his trial. '[I'll] say I'm a faggot, too,' Singleton said in the call to an unidentified woman. 'Let 'em prove I ain't gay.' He then spoke about how he and his friend Jonathan Gunter beat Jimmy Dean in July 2008 as Dean walked home. Gunter has been convicted and was sentenced to 30 years in prison. Dean said Singleton inflicted more damage than Gunter by kicking him in the face...In the phone call recording, Singleton and the woman laughed about how Dean's 'nose was dangling.' Singleton says he called Dean 'you punk [expletive]' and stomped him two or three times. The woman told Dean that he went too far. 'You did too much,' she said. 'You just went and didn't stop.'"
Singleton wrote in a confession to police: "We figured they would be easier targets because their [sic] are a lot of homosexuals around the area."

Said Dean after the verdict: "Dean said afterward that he was overwhelmed by the jury's decision. He said he thought there might only be one juror who thought Singleton should get the 60 years prosecutors requested for aggravated robbery. 'I think it shows the jury does understand,' Dean said. 'It makes the next two people who go into any neighborhood, and pick out anyone, think twice.' He also said the verdict gives him 'faith in people' and said the days are gone when criminals received a lesser sentence because the victim is gay. 'This sets a precedence for anything like this that happens,' Dean said. 'Maybe this will set a standard for anybody, no matter what your sexual orientation is, a violent crime is a violent crime.'"
An interview with Dean recorded shortly after the assault on him, AFTER THE JUMP...