After thousands signed a petition calling for a formal British apology to mathematician Alan Turing. During World War II, Turing, who is known as the father of modern computing, devised the Turing Bombe, a codebreaking device that was used to decipher the Nazi enigma codes, up to 3,000 messages per day. He was also gay, and two years after being convicted of "gross indecency" and sentenced to undergo hormone therapy, he killed himself with a cyanide-laced apple.
 Today, Prime Minister Gordon Brown apologized: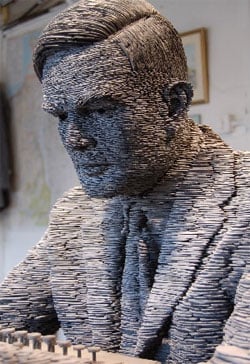 "Thousands of people have come together to demand justice for Alan Turing and recognition of the appalling way he was treated. While Turing was dealt with under the law of the time, and we can't put the clock back, his treatment was of course utterly unfair, and I am pleased to have the chance to say how deeply sorry I and we all are for what happened to him. Alan and the many thousands of other gay men who were convicted, as he was convicted, under homophobic laws, were treated terribly. Over the years, millions more lived in fear in conviction. I am proud that those days are gone and that in the past 12 years this Government has done so much to make life fairer and more equal for our LGBT community. This recognition of Alan's status as one of Britain's most famous victims of homophobia is another step towards equality, and long overdue...
...It is thanks to men and women who were totally committed to fighting fascism, people like Alan Turing, that the horrors of the Holocaust and of total war are part of Europe's history and not Europe's present. So on behalf of the British government, and all those who live freely thanks to Alan's work, I am very proud to say: we're sorry. You deserved so much better."
Read Brown's full piece in the Telegraph.
Gordon Brown: I'm proud to say sorry to a real war hero [telegraph]
Pictured: a statue of Turing at Britain's Bletchley Park.
An excerpt of a documentary on Turing, AFTER THE JUMP...