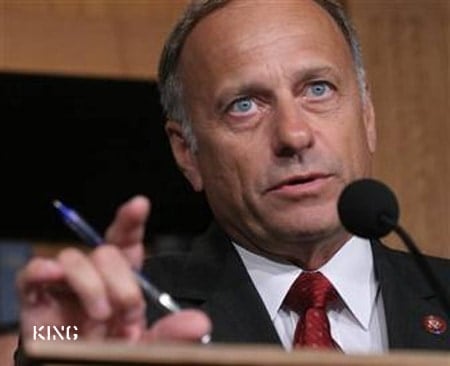 Gay-hating Rep. Steve King (R-IA) has corralled in 52 House Republicans to sign on to a letter to Obama requesting that the President fire Safe Schools czar Kevin Jennings.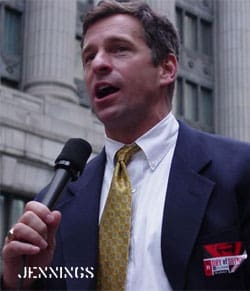 Writes King in the letter:
As the founder of the Gay, Lesbian and Straight Education Network (GLSEN), Mr. Jennings has played an integral role in promoting homosexuality and pushing a pro-homosexual agenda in America's schools-an agenda that runs counter to the values that many parents desire to instill in their children. As evidence of this, Mr. Jennings wrote the foreword for a book titled Queering Elementary Education: Advancing the Dialogue About Sexualities and Schooling. Throughout his career, Mr. Jennings has made it his mission to establish special protections for gay, lesbian, bisexual and transgendered students to the exclusion of all other students. The totality of Mr. Jennings' career has been to advocate for public affirmation of homosexuality. There is more to safe and drug free schools than can be accomplished from the narrow view of Mr. Jennings who has, for more than 20 years, almost exclusively focused on promoting the homosexual agenda.
Equally troubling is Mr. Jennings' self-described history of ignoring the sexual abuse of a child. In his book, One Teacher in Ten, Mr. Jennings recounts a 15-year old student confiding in him that he had a sexual relationship with a much older man. Mr. Jennings' only response was to ask if the underage boy used a condom. As a mandatory reporter, Mr. Jennings was required by law to report child abuse, including sex crimes. Mr. Jennings cannot serve as the "safe schools" czar when his record demonstrates a willingness to overlook the sexual abuse of a child.
You can read the full letter here.
King continues to repeat the thoroughly debunked claims about Jennings' counseling interaction with the student, and the student has even written a letter defending him.
Hopefully, the administration, which has so far defended Jennings against this anti-gay witch hunt, will continue to stand by him.
The Hill reports: "Openly gay senior Democratic Rep. Barney Frank (Mass.) called the effort a way for 'anti-gay' lawmakers to keep that issue at the forefront. 'This is just an effort to exploit anti-gay feeling — they have this anti-gay view that they understand is becoming less and less popular with the public,' Frank told The Hill on Thursday."
The wingnuts don't want to see any gay man in this position, much less one who has spent the better part of 20 years dedicating himself to teaching tolerance in the nation's schools. It's ironic that this is just a grown-up form of the anti-LGBT bullying Jennings has devoted his life to ending. Unfortunately, it has become increasingly apparent that certain members of the GOP will never stop acting like children.
The list of Republicans who have signed on to the letter, AFTER THE JUMP...
Alexander
Aderholt
Akin
Austria
Bachmann
Bachus
Bartlett
Barton
Boozman
Broun
Brown, H.
Carter
Chaffetz
Coffman
Cole
Conaway
Davis, Geoff
Fallin
Fleming
Foxx
Franks
Garrett
Gingrey
Gohmert
Hunter
Issa
Jordan
Lamborn
Latta
Luetkemeyer
Marchant
McClintock
McHenry
McKeon
McMorris
Mica
Miller, J.
Myrick
Neugebauer
Olson, P.
Pence
Pitts
Posey
Rogers (AL)
Rooney
Ryan, Paul
Shuster
Smith, C
Smith, L.
Wamp
Westmoreland
Jones, Walter