Two of Maine's largest newspapers threw their support behind marriage equality in the state in editorials over the weekend.
Wrote the Maine Sunday Telegram: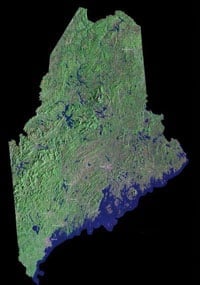 "Maine statutes use the word 'spouse' 400 times. They use the word 'marital' 600 times. There is virtually no way to surgically carve out and tie together all the rights and responsibilities of marriage in a legal relationship that does what marriage does without calling it marriage. There is also no way to provide the universally understood family status that comes with a marriage contract. Husbands and wives don't need to produce durable powers of attorney or advance directives when they pick up their children from school, visit a hospital room or make decisions at a funeral home. Only same-sex couples are required to produce documents and jump through these legal hoops, and that is not what the equal protection clause in the state constitution promises. Families led by same-sex partners are here now. They are part of our communities and they need and deserve the legal protections – as well as the dignity – that comes with civil marriage status. Maine voters should recognize that even if their personal beliefs about marriage haven't changed, reality has. They should accept reality and vote "no" on Question 1."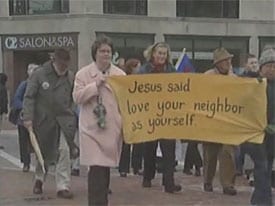 "Maine was unusual in passing a law to allow same-sex marriage rather than being required to do so by a court order. Since then, Vermont and New Hampshire have followed suit. Lawmakers, including Gov. John Baldacci — the first governor to sign such legislation into law — moved Maine toward tolerance and fairness. Repealing this law would move the state backward while denying guaranteed rights to a small minority...It is hard to see how allowing more people to marry will weaken marriage. Instead, it seems the strong desire of gay and lesbian couples to be married, rather than declared domestic partners, shows the value and importance of marriage. Voting no on Question 1 will reiterate Maine's commitment to equality and acceptance of families of all types while respecting religious traditions and beliefs."
You can help Protect Maine Equality here. You can also help get out the early vote by assisting with the virtual phonebank.
Mainers in support of marriage equality held a rally in downtown Portland on Sunday. Check it out, AFTER THE JUMP...