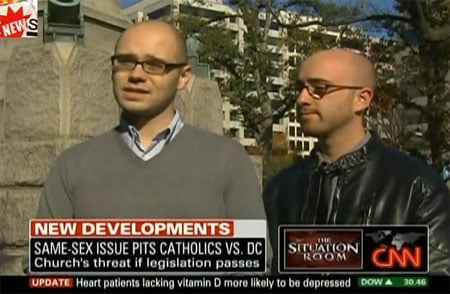 HRC Backstory reports: "Today, the D.C. Board of Elections and Ethics announced their ruling [pdf] that for a second time a proposed ballot measure that would undermine marriage equality in the District is not a proper subject for a referendum or initiative. The Board's decision to prevent a measure like California's Prop 8 or Maine's Question 1 from possibly reaching the ballot is strongly supported by D.C. law, which wisely prohibits any initiative that authorizes discrimination or has the effect of authorizing discrimination under D.C.'s Human Rights Act."
Meanwhile I reported last Thursday that the Catholic Archdiocese of Washington D.C. has told the D.C. Council that if they are forced to recognize same-sex married couples (as D.C.'s proposed marriage equality law would impel them to do) they will have no other choice but to discontinue all social service programs in D.C. related to adoption, homelessness, health care and other areas.
CNN reports on that threat, AFTER THE JUMP...