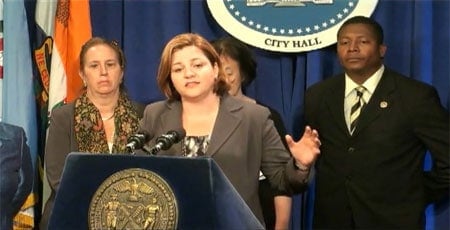 Openly gay NYC City Council speaker Christine Quinn was asked at a press conference this morning about the potential for a vote on marriage equality by the State Senate tomorrow.
"It's an incredibly important piece of legislation...If the bill is voted on and passed tomorrow, a week after a referendum passed in Maine that took rights away from the residents of Maine...if seven days after that the New York State Senate stands up and says all New York families are equal, what a message that sends about what we believe as a state."
Watch, AFTER THE JUMP...