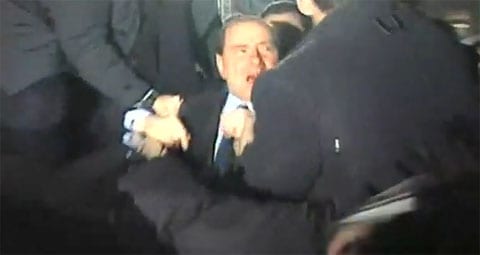 Italian Prime Minister Silvio Berlusconi was hospitalized today in Milan after being struck by a man holding a metal souvenir of the city's Duomo. The man has been arrested. The attack occurred immediately following a rally for Berlusconi's People of Freedom party, the Guardian reports:
"At one point he interrupted the rally to address a group of protesters on the sidelines, who had been chanting 'buffoon' and 'shame', saying they should be ashamed themselves. 'We would never (behave) like that,' he told them. Towards the end of the rally, he boasted that he was still 'young and on form', opening his shirt to show the crowds that he 'wasn't even wearing a vest', before he and a dozen ministers ended the rally with a singalong of the national anthem. Minutes later, the flying Duomo put an end to what should have been the prime minister's evening of triumph."
Watch video of the attack, AFTER THE JUMP...
Previously...
Italian Catholic Editor Resigns After 'Defamatory' Gay Smears [tr]