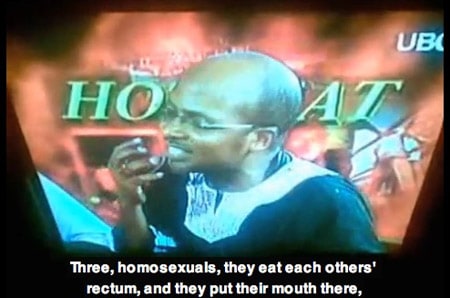 This morning I posted more about Ugandan pastor and Rick Warren pal Martin Ssempa's screenings of gay porn in support of Uganda's "kill the gays" bill.
Now comes this video (via Box Turtle Bulletin) of Ssempa on the Ugandan talk show "Hot Seat", trying to convince host Charles Musana of the evils of homosexuality, and describing in graphic detail scatological sex and fisting (things all gay people supposedly do, according to Ssempa), with which he's apparently very familiar.
Watch, AFTER THE JUMP...
Previously...
Ugandan Pastor Martin Ssempa Holds Gay Porn Screening to Scare Up Support for 'Kill the Gays' Bill [tr]
Details on Ugandan Pastor Martin Ssempa's Filthy Screenings in Support of the 'Kill the Gays' Bill [tr]