Over the past few days if you've been reading around the gay blogs you may have heard rumblings regarding a secret LGBT activist retreat in Tennessee. Now activist and National Equality March co-organizer Kip Williams has shed some light on it in a Facebook posting.
Writes Williams: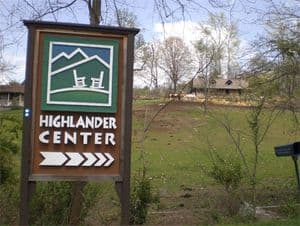 Over the last year and a half, we have met some incredible folks in California in the aftermath of Prop 8 and nationally through our work on the National Equality March. Since the march last October, we have continued building on those relationships and discussing strategies to move forward in the struggle for lesbian, gay, bisexual, transgender, and queer rights.

Over the last 4 days we gathered at the historic Highlander Center in Tennessee with 45 activists from across the country who are sick of delays, compromises and excuses. Some who joined us have been activists for many years; some are new to the movement—all brought a vast depth of knowledge and a readiness to fight for a more just and equal world for all. Some have worked on national LGBTQ issues, such as ACT-UP, Equality Across America and Join the Impact; some were connected to organizations outside of LGBTQ rights, such as PETA, Presente.org, Unite Here, Colorofchange.org, Greenpeace, etc. In our outreach we purposefully looked for those who were supporting and advocating for LGBTQ working people, communities of color, and trans rights.
Continued, AFTER THE JUMP...
We had one thing on our agenda: Discuss ways to build a national network of activists to demand full equality now. We believe that it is time to escalate our demands through coordinated nationwide nonviolent direct action, and we hope to build a broad base of organizers to work with all who struggle for justice and dignity in their lives.

We know that many people across the country feel the same way, and that many have been actively working within their own communities for a long time. The Highlander Center can comfortably accommodate about 35 people, and we broke those limits because we wanted more people to participate in the conversation. We had no secrets, only limited space and resources, and a very short time to organize this retreat. We wish we could have invited thousands.

We want to work with everyone to help inspire our community to bold action. We want to be what Kate Bornstein described as "an unpredictable outspoken force," and we want everyone at the table – no matter the sex, gender, race, class, look, age, ability, religion, family status, citizenship, class, and everything in between. We want to make the White House and Congress take notice. And we want everyone who stands in the way of full equality to be held accountable and wonder what just hit them.

We wish every voice could have been present at the Highlander Center this week, but that was neither a beginning or an end to the conversation. If you want to be involved, or if you have something to share, please let us know. You can email us at [email protected] Also, if you're coming to Creating Change in Dallas next week, we'd love to get together to talk in person.

With hope and love,
Robin McGehee and Kip Williams
So there you go. Here's Williams' post on Facebook.