San Diego Republican Mayor Jerry Sanders testified in the federal Prop 8 trial today, and the courtroom was shown a video of the September 2007 press conference at which he declared he was supporting marriage equality: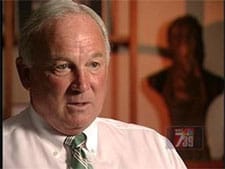 "San Francisco City Attorney Dennis Herrera, who questioned Sanders, asked why he was so emotional on the video.' I came very close to showing the prejudice I obviously had toward my daughter to my staff and to the people of San Diego,' said Sanders, who choked up again recalling the episode. Sanders now believes it's in the interest of government to support same-sex marriage. A former police chief, he cited examples of hate crimes against gays and of police officers being afraid to acknowledge they are gay. 'If government tolerates discrimination against anyone, it is very easy for citizens to do the same thing,' he said."
In cross-examination, the Prop 8 sponsor's lawyer tried to "show the ballot measure was not motivated by deep-seated bias toward gays" by asking Sanders whether his position on civil unions took the form of hatred.
More on Sanders' testimony here.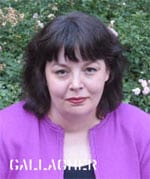 The National Organization for Marriage's Maggie Gallagher snarked out disapproval of Sanders, blaming him for the anti-gay ballot measure:
He gave moving testimony in court today about how much he loves his lesbian daughter.  Sure.  But he ran for office promising the people of San Diego he opposed gay marriage.  And then, he signed a city council resolution trying to overturn Prop 22 instead of meeting his obligations, living up to his promises.  And he used his daughter as an excuse.  That's wrong.  Politicians are not elected to advance the views and values of their families.

The National Organization for Marriage, which has been credited by gay rights activists as one of the main reasons Prop 8 qualified for the ballot, got involved because Mayor Sander betrayed his campaign vows.  I was asked to fly to San Diego in October of 2007 by a group of San Diego Catholics upset about the Mayor's betrayal.  That meeting lead directly to NOM's decision to try to raise a million dollars in January of 2008  to help Protect Marriage get this on the ballot.  The rest is history. Thank-you Mayor Sanders.
Sanders' video, once again, AFTER THE JUMP...