Oklahoman Keith Kimmel is suing the state of Oklahoma for a license plate that reads "IM GAY", the Oklahoman reports: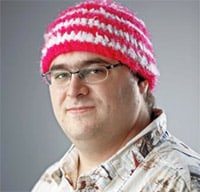 "The Oklahoma Tax Commission turned Kimmel down last year because of an internal rule against special license tags that 'may be offensive to the general public.' Kimmel points out officials allowed tags such as STR8FAN and STR8SXI. 'They defended using 'straight sexy.' … They didn't think that one was inappropriate but yet 'I'm gay' is. I think it's kind of a double standard,' said Kimmel, a political science/pre-law student at Oklahoma City Community College. In his lawsuit, filed Wednesday, Kimmel asks Oklahoma County District Judge Noma Gurich to order tax officials to grant his application for the IM GAY tag. His attorney contends the Tax Commission's rule violates the Oklahoma Constitution's guarantee of free speech."
Watch an interview with Kimmel, AFTER THE JUMP...