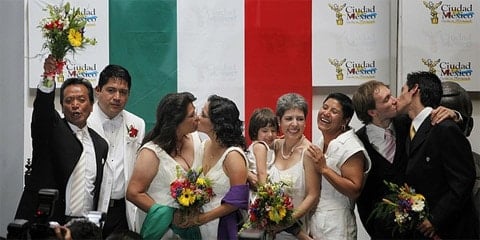 The first same-sex marriages took place in Mexico City yesterday as their marriage equality law went into effect, the L.A. Times reports:
"Vazquez and Lol Kin Castaneda on Thursday became the first gay couple to marry in Mexico under a new law that allows same-sex couples to wed and to adopt children. The law was passed by the Mexico City legislature in December and applies only to the capital. It is the most far-reaching gay-rights law in Latin America and one of several measures that have put the city and its leaders at odds with the more conservative country. 'This is a historic day,' presiding judge Hegel Cortes said shortly after pronouncing Vazquez and Castaneda 'legitimately united in matrimony.' Three other same-sex couples also tied the knot."
Some blurry, but palpably joyful video, AFTER THE JUMP...