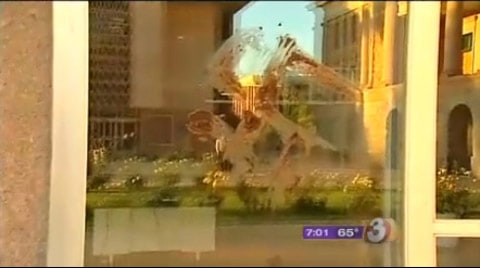 Vandals smeared swastikas of refried beans on the windows at Arizona's state Capitol on Sunday in apparent reaction to the state's newly enacted immigration laws, AZ family reports:
"Capitol police arrived on the scene at about 6 a.m., after a swastika was found smeared on the glass doors of the House and Senate buildings. While it first looked like mud on the doors, it turned out be refried beans. On the sidewalk, beans were used to write 'AZ=Nazi,' again with a swastika. It's not clear when exactly the vandalism happened, but police believe it was some time overnight. 'That is what happens when there is so much fear and there is so much disappointment,' said Gustavo Ramirez, a protester from California. 'The laws that have been passed, they are Nazi laws. They are not considering humanity. They are a crime against humanity.' Ramirez said while he does not support the new law, vandalism is not the way to make a statement."
Watch, AFTER THE JUMP...