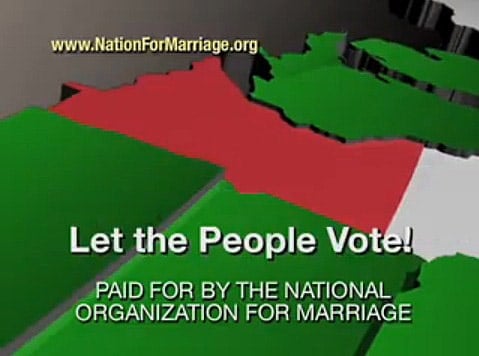 Inspired by recent hearings on marriage equality and a lawsuit filed against DOMA by Minnesota couples, The National Organization for Marriage has launched a $200,000 campaign aimed at stopping marriage equality in Minnesota.
NOM's Brian Brown writes, in a plea for donations: "The need is pressing. . . . At any time activists could file a lawsuit that would force same-sex marriage on Minnesota -- regardless of current law. And just this spring, DFL legislators have introduced a bill that would redefine marriage in Minnesota. Even gay marriage advocates acknowledge that the people of Minnesota oppose same-sex marriage. But politicians are putting special interests and personal agendas ahead of the interests of all Minnesotans. It's high time legislators got an earful from their constituents, who have had enough of the political games."
Watch their ad, AFTER THE JUMP...