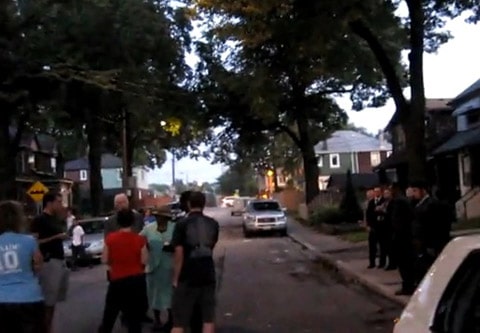 The Toronto Star does a follow-up on the video that I posted on Monday that was described as a group of Toronto residents driving out a church group that had been targeting a gay couple by praying in front of their house.
Now, the gay couple, distressed by the publicity, says they were not being targeted.
Said Blair Chiasson, a civil servant who lives with his partner, Paul Collins, to the Toronto Star:
"I don't like how the whole issue is being distorted. Nothing happened. Nothing happened. I just want this to stop. Stop discussing it. Stop talking about it. It's really kind of spiralling out of control."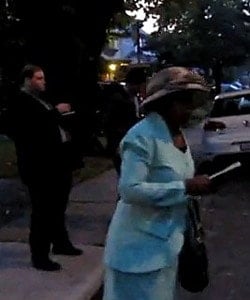 Geoffrey Skelding, the videographer and also a resident on the street, had written this description under the  clip:
"This is a group from a church at the end of my street. Apparently they have been grouping in front of a gay couple's house and reading their bible loudly for the past 7 years. They may have also driven a lesbian couple from the area as well by doing the same thing. Tonight most of our neighbours came out and were successful in getting them to leave. The people who go to that church don't even live in our area! Police came by shortly thereafter."
Chiasson and Collins tell The Star a different story:
"To Chiasson, however, they are the unthreatening 'church people' — and they did not do anything wrong. Chiasson, 45, said he believes Highfield parishioners only choose to read the Bible from a spot near their house because a fire hydrant prevents cars from parking there. He said the parishioners preached on the street long before he and Collins, 47, arrived 13 years ago. Moreover, he said, he and Collins have never felt personally targeted by the parishioners, have never heard them say anything homophobic, and have not even been present for three years on the summer Sundays when the infrequent sermons occur. He said the parishioners are 'a part of the neighbourhood' with the right to speak freely. The neighbours who confronted them, he said, 'overreacted.' ... 'We don't even know the people that started this,' he said. 'So the people who are apparently our defenders, we don't even know who they are.'"
Yet another neighbor disagrees:
"Jane Farrow, executive director of Jane's Walk and a Highfield resident, said neighbours have told her the parishioners have also preached outside the home of a lesbian couple on nearby Kerr Rd. She and Skelding both said they knew of heterosexual neighbours whom aggressive door-knocking parishioners have called sinners for living with partners outside of marriage. 'It goes beyond spreading the word of God. It's righteous, it's rude, it's bigoted — and there's no room for it on Highfield,' Farrow said."
Watch the clip again, AFTER THE JUMP...