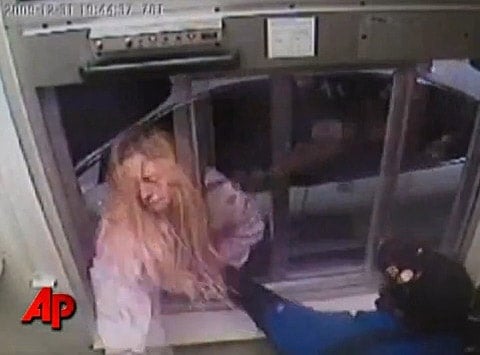 This incident made the news last January when it happened in Toledo, Ohio:
"The woman wanted McNuggets from a McDonalds in Toledo which was only serving breakfast. She reacted by punching the drive-thru worker in the mouth and shattering the drive-thru window. It all happened around 6 a.m. New Year's Day at the east side McDonalds at the corner of Main and Front. Surveillance video, released today, captures the assault as it unfolds. The woman in the car is Melodi Dushane, 24 years old at the time...Last month, Dushane got 60 days behind bars and three years probation. She also has to pay McDonalds more than $1,500 for the damages. She apologized to the court, and her attorney says she was drinking the night of the incident and suffers from panic attacks, which she blames for leading up to the attack."
Watch (note: no sound) the just-released video, AFTER THE JUMP...