Just days before the Pentagon releases its survey on "don't ask, don't tell," John McCain took to CNN's "State of the Union" with Candy Crowly today to once again speak in favor of the policy.
CNN's Political Tracker blog reports on his appearance on the show: "The military is at its highest point in recruitment, in retention, in professionalism, in capability so to somehow allege that this policy has been damaging the military is simply false."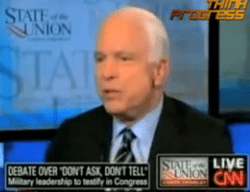 "Instead, McCain called the attempt at repeal 'a political promise made by an inexperienced president or candidate for president of the United States. I want to know the effect on battle effectiveness and morale, not on how best to implement the change in policy. I don't think that's a lot to ask when we have our young men and women out there serving and fighting and tragically some of them dying.'"
He defended the policy further: "It's called 'Don't Ask, Don't Tell.' Okay? If you don't ask somebody and they don't tell and it's an all volunteer force. [...] The fact is, this was a political promise made by an inexperienced President or candidate for Presidency of the United States...The fact is, that this system is working and I believe we need to assess the effect on the morale and battle effectiveness of those people, those young Marines and Army people I met.
Republican Senator Lindsey Graham also defended DADT today while speaking to Chris Wallace on FOX News. He spit out the same exact talking points as McCain: "This is a political promise made by Senator Obama when he was running for president. There is no groundswell of opposition to Don't Ask, Don't Tell coming from our military. This is all politics. I don't believe there is anywhere near the votes to repeal Don't Ask, Don't Tell. On the Republican side, I think we will be united in the lame duck [session] and the study I would be looking for is asking military members: Should it be repealed, not how to implement it once you as a politician decide to repeal it. So I think in a lame duck setting Don't Ask, Don't Tell is not going anywhere."
Watch Candy Crowley's interview with McCain, where the he repeatedly talks over the host, AFTER THE JUMP.