Today, the Republican National Committee held a debate between the candidates for chairman.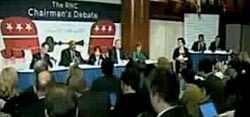 Current RNC Chair Michael Steele and the four candidates vying to replace him  — Wisconsin Republican Party Chairman Reince Priebus, Former RNC Co-Chair Ann Wagner, Former Michigan GOP Chair Saul Anuzis, and Former Deputy RNC Chair Maria Cino — all agreed on one thing: gays don't deserve the right to marry.
Said Priebus, who is considered the front-runner (in terms of commitments): "It's foundational in our lives… I don't believe anybody should be denied dignity in this discussion, everyone should be loved. But at the end of the day, I believe that marriage — through the sanctity of marriage — should be between one man and one woman."
Watch a clip of all their statements, AFTER THE JUMP...
(via the wonk room)