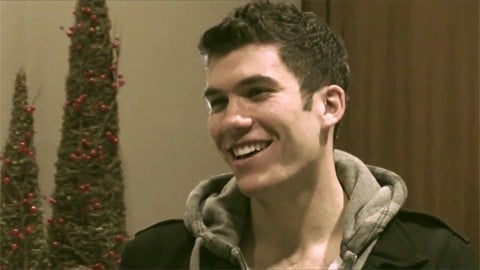 Nathan Manske and Marquise Lee just finished a 4 month, 50 state tour of the United States collecting stories for their I'm From Driftwood site. We'll be sharing some of the stories they collected along with some of the insight into what they saw. They're still encouraging people to submit their written stories via IFD.
Jake Conway is the editor of Q, Yale's first LGBTQ magazine which launched just this past Fall. We were in West Hartford for only one night and it just so happened to be the night of the launch party for Q. Jake found time before the party to sit down with us and share a story. What I thought was going to be just another coming out story turned into something more thoughtful and insightful about truly being proud of who you are.
Watch, AFTER THE JUMP...
Recently in this series...
Rep. David Cicilline Discusses Running as an Out Politician [tr]
Burning Man, The Love Story [tr]
'Heterosexual Transgender Lesbian' Talks Transition [tr]
Houston Mayor Annise Parker Shares Personal Story of Young Love [tr]
T.C., Living with HIV, Recalls the Early Days of AIDS [tr]
A Gay City Councilman Moves His Family to Higher Ground [tr]