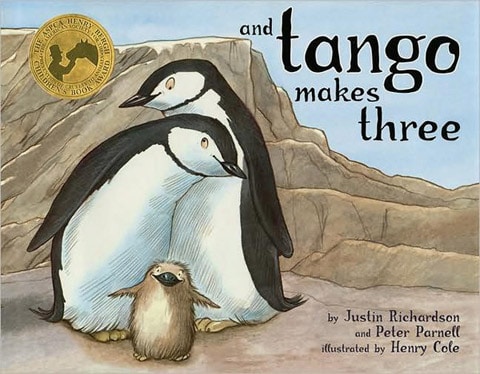 And Tango Makes Three, by Justin Richardson and Peter Parnell is the most challenged book once again, according to the American Library Association:
"And Tango Makes Three" is an award-winning children's book about the true story of two male Emperor Penguins hatching and parenting a baby chick at New York's Central Park Zoo. The book has appeared on the ALA's Top Ten List of Frequently Challenged Books for the past five years and returns to the number one slot after a brief stay at the number two position in 2009. There have been dozens of attempts to remove And Tango Makes Threefrom school and public library shelves. Those seeking to remove the book have described it as "unsuited for age group," and cited "religious viewpoint" and "homosexuality" as reasons for challenging the book.
Read this year's top 10 challenged books, and the reasons given, AFTER THE JUMP...
The ALA's Top Ten Most Frequently Challenged Books of 2010 include the following titles; each title is followed by the reasons given for challenging the book:
1. "And Tango Makes Three" by Peter Parnell and Justin Richardson
Reasons: Homosexuality, Religious Viewpoint, Unsuited to Age Group
2. "The Absolutely True Diary of a Part-Time Indian" by Sherman Alexie
Reasons: Offensive language, Racism, Sex Education, Sexually Explicit, Unsuited to Age Group, Violence
3. "Brave New World" by Aldous Huxley
Reasons: Insensitivity, Offensive Language, Racism, Sexually Explicit
4. "Crank" by Ellen Hopkins
Reasons: Drugs, Offensive Language, Sexually Explicit
5. "The Hunger Games" by Suzanne Collins
Reasons: Sexually Explicit, Unsuited to Age Group, Violence
6. "Lush" by Natasha Friend
Reasons: Drugs, Offensive Language, Sexually Explicit, Unsuited to Age Group
7. "What My Mother Doesn't Know" by Sonya Sones
Reasons: Sexism, Sexually Explicit, Unsuited to Age Group
8. "Nickel and Dimed: On (Not) Getting By In America" by Barbara Ehrenreich
Reasons: Drugs, Inaccurate, Offensive Language, Political Viewpoint, Religious Viewpoint
9. "Revolutionary Voices" edited by Amy Sonnie
Reasons: Homosexuality, Sexually Explicit
10. "Twilight" by  Stephenie Meyer
Reasons: Religious Viewpoint, Violence