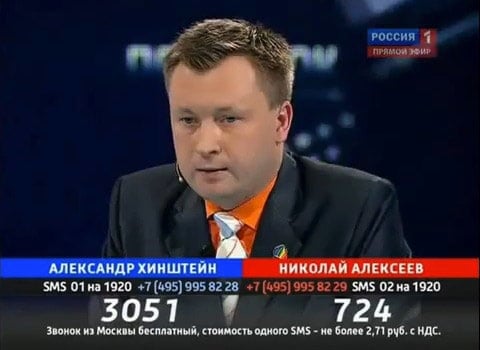 Yesterday in my post about Moscow Pride, I mentioned that Russian gay activist Nikolai Alexeyev had stormed off the stage of a TV show after an unfair debate stacked against him with Russia's version of Maggie Gallagher and a homophobic host.
Here's some of Chicago activist Andy Thayer's first-person account:
Alekseev was debating Alexander Hinstein, a deputy in the State Duma (parliament) and member of Vladir Putin's United Russia Party.  The last straw was when Solovyev, host of the nationally broadcast show, Poednivo (roughly "The Dual" in English), called on an audience member who accused gays of physically threatening her young daughter.
Alekseev tore off his microphone and walked off as the cameras rolled. Shortly thereafter, the LGBT members of the audience also walked out.
The topic of the debate was whether or not LGBTs have the legal right to assemble and protest. It is emblematic of how far our movement has to go in this country that we are basically debating our existence, and a prominent leader of the ruling party has the chutzpah to say "No!"
Watch, AFTER THE JUMP...
More Moscow Gay Pride news...
Fireworks Already Starting in Moscow Over Banned Gay Pride as Activists Arrive to Lead it in Defiance [tr]