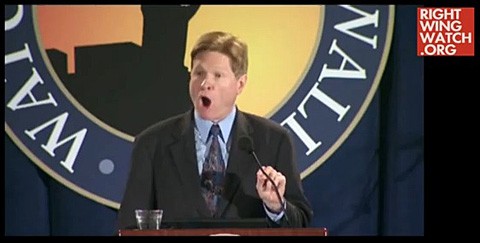 Here's a clip via Right Wing Watch of hate group leader Peter Sprigg of the Family Research Council speaking at a Watchmen on the Wall conference the group is hosting. Sen. Jim DeMint and Rep. Heath Shuler have both spoken at the conference. This is from a panel entitled "Life, Marriage & Freedom: A Threat Assessment."
"Several years ago they replaced the neutral term homosexual with the word 'gay' which in and of itself implies something which is empirically false, namely that there is such a thing as an intrinsic gay identity which people are born with and can never change."
Sprigg then goes on to claim that "homosexual activists" are panicked because the judge replacing Judge Walker in the Prop 8 case following Walker's retirement is African-American, and homosexual activists distrust African-Americans.
Watch, AFTER THE JUMP...