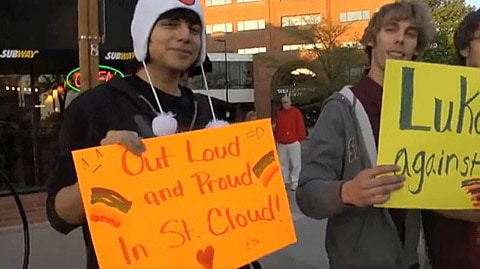 On Tuesday, I posted about an anti-gay assault in St. Cloud, Minnesota by three assailants who used anti-gay slurs as they beat a man perceived to be gay. The men have been released, according to the AP:

The three suspects in the alleged assault had to be charged and appear in court by noon Wednesday or they had to be released.
"The individuals were released pending further investigation, and a charging decision will be made in the future," said Shan Wang, assistant chief of the criminal division in the Stearns County Attorney's Office.
A rally organized quickly on Facebook and Twitter attracted more than 100 people on Wednesday night. Lots of photos of the rally here, and a video with some interviews follows.
Watch, AFTER THE JUMP…