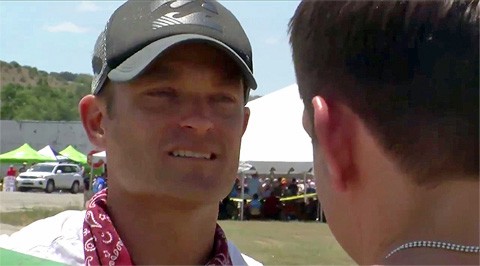 The ImFromDriftwood.com crew is in California for the 10th annual AIDS/LifeCycle, a bike ride from San Francisco to Los Angeles raising money for HIV/AIDS. IFD founder Nathan Manske and guest videographer and editor Jesse James Rice will be sending us exclusive daily Video Stories from some of the 2350 riders who are embarking on the 7-day, 545 mile trek. You can also follow their daily adventures on Facebook and Twitter.

Chad arrived in the small town of Bradley, CA, early in the morning to wrap red ribbons and bows on the fences, bridges and light posts for the riders to see when they arrived for lunch. After lunch we found a field nearby and he assured me he already had a story in mind that he wanted to share. Just before we started filming, though, we were chatting about LifeCycle and a lightbulb went off in his head. He suddenly had a different story he wanted to share and I'm sure glad he did.
Watch, AFTER THE JUMP...
PREVIOUS STORIES FROM OUR AIDS/Lifecycle SPECIAL...
From Mocking LGBT People to Cycling 545 Miles By Their Side [tr]
After Decades of Stigma, Man Feels Comfortable in Being Open About HIV Status [tr]