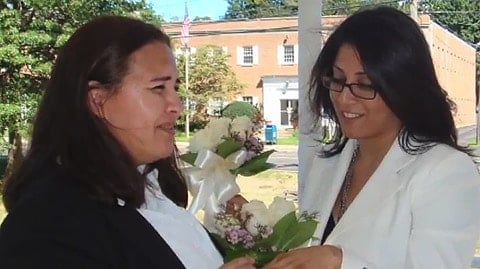 White House Press Secretary Jay Carney today suggested comprehensive immigration reform was a more palatable solution for the Obama administration to pursue than to issue a moratorium on deportations of foreign spouses in legally married binational same-sex couples. Such individuals are threatened with deportation under DOMA.
Chris Geidner at MetroWeekly reports:
In June 2009, the Department of Homeland Security issued the moratorium on deporting certain widows and widowers of U.S. citizens. At the time, Homeland Security Secretary Janet Napolitano said, "Smart immigration policy balances strong enforcement practices with common-sense, practical solutions to complicated issues."
Advocacy groups, including Immigration Equality and Stop the Deportations, have been pushing the administration to take a similar step as to same-sex bi-national couples.
***
Asked today by Metro Weekly how the circumstances for same-sex bi-national couples differed from the 2009 decision that a moratorium was both possible and appropriate, Carney only would say, "The President has called for comprehensive immigration reform for a reason -- because he thinks we have to move in a comprehensive way to get there.
"Because that kind of comprehensive approach has in the past enjoyed bipartisan support, he believes that if we talk about it in the right way and we push for it and folks out in the country push for it, that we can return to a situation where there will be bipartisan support for it in the future."
Today, Freedom to Marry posted a video featuring a binational couple threatened with separation due to deportation.
Said Evan Wolfson, Founder and President of Freedom to Marry: "Cristina and Monica fell in love, made a lifetime commitment to one another, and got married. Now they spend every day worrying about whether they will be ripped apart or forced into exile in order to stay together because the so-called Defense of Marriage Act keeps the U.S. government from honoring their marriage. If not for DOMA, Cristina would be able to petition for Monica as her spouse without any difficulty. It is time to overturn DOMA and ensure that all Americans are treated fairly and equally under the law."
Watch Cristina and Monica's story, AFTER THE JUMP...