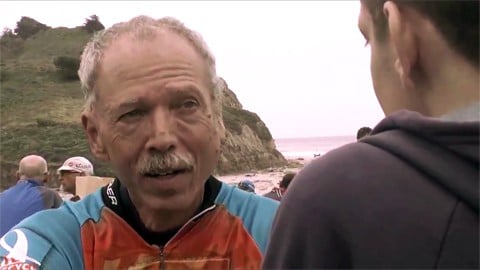 The ImFromDriftwood.com crew is in California for the 10th annual AIDS/LifeCycle, a bike ride from San Francisco to Los Angeles raising money for HIV/AIDS. IFD founder Nathan Manske and guest videographer and editor Jesse James Rice will be sending us exclusive daily Video Stories from some of the 2350 riders who are embarking on the 7-day, 545 mile trek. You can also follow their daily adventures on Facebook and Twitter.

We met David at the lunch stop on the first day of the ride. After asking him to share a story with us, he immediately agreed and only asked for 5 minutes to finish eating. I didn't know he was straight at first but sure enough, we ended up getting our first ally story. Following David, we met so many other straight allies we had to start making sure people we were speaking with were actually LGBT. It's inspiring to meet so many allies on the ride.
Watch, AFTER THE JUMP...
PREVIOUS STORIES FROM OUR AIDS/Lifecycle SPECIAL...
After Decades of Stigma, Man Feels Comfortable in Being Open About HIV Status [tr]