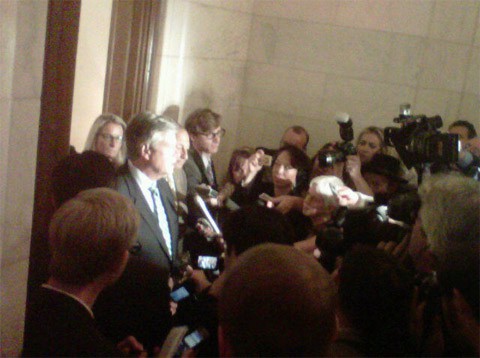 (image jon campbell twitter)
New York Senate Majority Leader emerged from a four-hour conference on the marriage equality bill today and announced that no decision has been made, and  Republicans will conference the measure again tomorrow.
Republican senators met for four hours Wednesday to discuss the marriage issue, and, as they emerged, they said they had not reached a consensus about bringing the bill to a vote. The State Assembly now plans to vote on the bill Wednesday afternoon, after Mr. Cuomo agreed to send the "message of necessity" required for an immediate vote because the bill language was only just formally introduced on Tuesday.
Watch Skelos speak to reporters, AFTER THE JUMP...
Call your Senators. The full list of potential swing votes is HERE.