Here's a crib sheet provided by Gannett News Service on a survey they took of New York Senators: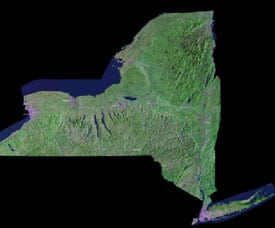 The measure would need 32 votes for adoption in the Senate, and 26 senators, all Democrats, indicated they would back the bill. Twenty-eight senators expressed opposition -- possibly leaving the fate of the measure with the eight undecided lawmakers, which include five Republicans and three Democrats.
Check out where the votes stand according to Gannett in a document, AFTER THE JUMP...
The undecided lawmakers are Sens. James Alesi, R-Perinton; Stephen Saland, R-Poughkeepsie; Greg Ball, R-Carmel; Kemp Hannon, R-Nassau; Roy McDonald, R-Stillwater; Shirley Huntley D-Queens; Joseph Addabbo, D-Queens; and Carl Kruger, D-Brooklyn.
The article adds: 
Brian Ellner, New York strategist for the Human Rights Campaign, a gay-rights group, said there are numerous lawmakers deciding where they stand on the issue, not just the eight identified by Gannett.
"I think there are many undecided members of the Senate, and we are working very hard to make it clear to all of them that this is, of course, a moderate mainstream issue that a supermajority of New Yorkers support -- and that the time is now," he said.
A bill has not yet been produced in the Senate.
YNN has a marriage tracker map posted with information on each region's lawmakers.
Recently in New York Marriage...
NYC Mayor Bloomberg Delivers Major Address on Marriage Equality [tr]
Labor Leaders Rally for Marriage Equality at City Hall [tr]
Watch: Anti-Gay Senator Golden Urges Faiths to Unite to Kill Marriage Equality [tr]
Alesi: Don't Assume I Went to Gay Rights Dinner Because I Support Gay Rights [tr]
New York Governor Cuomo Releases Video Urging PAssage of Marriage Equality [tr]
NYC Mayor Michael Bloomberg Lobbies senate GOP on Same-Sex Marriage [tr]
New York's Independence Party Leader Backs Marriage Equality [tr]
WATCH: Pastor at NOM's NY Marriage March Says Gays Should Die [tr]