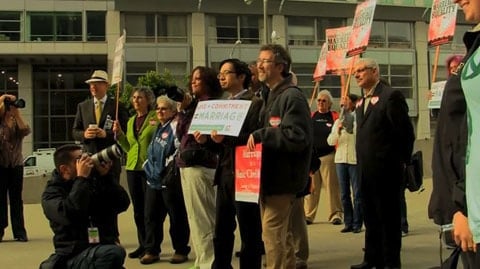 Activist Sean Chapin put together a video reel of the highlights of the rally held yesterday outside the Federal District Court House in San Francisco before the Prop 8 hearing over the preposterous motion to vacate Judge Walker's ruling because he is gay.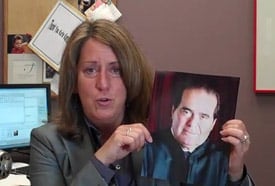 Also, remarks from NCLR Executive DirectorKate Kendall, who was in the courtroom at the time.
Watch both clips, AFTER THE JUMP...
Here's a lengthy report on yesterday's hearing, with this juicy bit, from NPR:
Ware also heard arguments on whether he should prohibit Walker from using videotaped recordings of the trial in public speeches. Cooper said Walker's post-retirement use of the recordings violated a U.S. Supreme Court ruling barring the trial from being broadcast beyond the federal courthouse in San Francisco.
Ware said he would issue a written ruling at a later date but suggested he was disinclined to prevent his former colleague from making personal use of the videos.
Ware said Walker had been given the videos as a parting gift during a "passing the gavel" ceremony.
"It was done under my auspices," he said. So I want to disclose that in case you wish to make an argument that somehow having presided over that event ... I should recuse myself."
A ruling is expected sometime today.
Watch both clips, AFTER THE JUMP...
Catch up on yesterday's report...
Following Hearing, Ruling to Come Within 24 Hours on Judge's Sexuality in Prop 8 Case [tr]
NCLR Executive Director Kate Kendell: