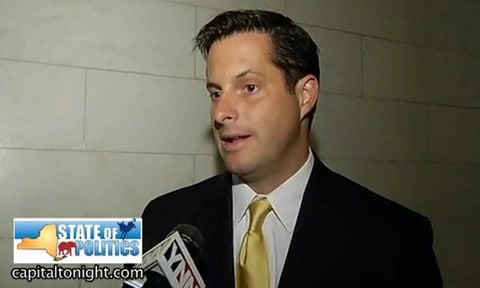 Senate Republicans plan to conference the marriage equality bill once more today. They have not yet decided on a vote:
The bill is also at the center of furious horse-trading over everything from New York City rent control laws and property taxes to state university tuition levels and a whole host of other unrelated issues as the Legislature tries to end its 2011 session in the coming days.
In a week that has seen five senators flip their positions to now support same-sex marriage, the handful of undecided senators -- including freshman Sen. Mark Grisanti of Buffalo -- said they remained on the fence after the marathon, closed-door meeting among Republicans.
"I am where I was yesterday," said Grisanti, who has moved from a no vote to uncertain.
Senator Greg Ball, who has been vocal about wanting religious exemptions in the bill, which have been provided, says he still wants more in an interview shot yesterday following the Senate conference yesterday. In two clips, he talks about those requests, and gives some insight into the tone of yesterday's Senate conference (video 2).
Watch Ball's interview, AFTER THE JUMP...
Jimmy Vielkind at Capitol Confidential reports on Robin Wilson, a law professor at Washington & Lee in Virginia, who drafted a letter to Sen. Greg Ball, comparing New York's pending same-sex marriage bill with laws enacted in other states.
Check out the letter here.
Cuomo spokesman Josh Vlasto said no further changes to the bill were being considered.
Here's some more insight into Mark Grisanti of Buffalo:
"It's something I think about almost every second of every day in the last couple of weeks," said Grisanti, the lone Western New York Republican who is considering support for the bill, which is backed by Democratic Sen. Timothy M. Kennedy of Buffalo.
Friends say that Grisanti has almost become consumed by the weight of the issue and that he is torn between his personal beliefs as a Catholic in a conservative district and the issue's civil rights concerns as a lawyer.
"If I take the Catholic out of me, which is hard to do, then absolutely they should have these rights," Grisanti said.
"It has nothing to do with politics. It has to do with my own personal belief."
Watch Ball's interview, AFTER THE JUMP...
NOTE TO READERS: It is urgent that you call your Senators and ask them to support this bill, particularly the Senators in THIS LIST.