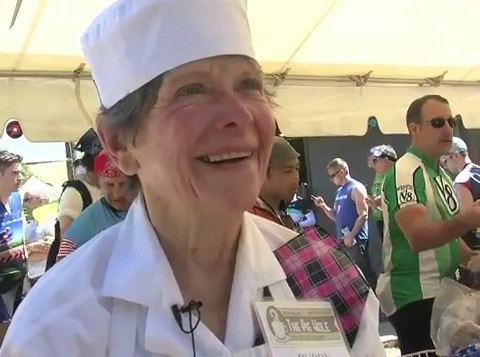 The ImFromDriftwood.com crew is in California for the 10th annual AIDS/LifeCycle, a bike ride from San Francisco to Los Angeles raising money for HIV/AIDS. IFD founder Nathan Manske and guest videographer and editor Jesse James Rice will be sending us exclusive daily Video Stories from some of the 2350 riders who are embarking on the 7-day, 545 mile trek. You can also follow their daily adventures on Facebook and Twitter.
For some reason I was adamant about finding the oldest LifeCycle particpant. I didn't know if that person was going to be a man, woman, Rider, Roadie, LGB or T, but I knew I wanted to get his or her story. After several days and some detective work I found out her name is Suzanne Jonson and she worked at Rest Stop 3. She had a sweet story about being a very proud mom of an early HIV hero and I'm glad I found her.
Watch, AFTER THE JUMP...
PREVIOUS STORIES FROM OUR AIDS/Lifecycle SPECIAL...
HIV-Positive Mother Confronts and Battles AIDS Stigma That Killed Her Brother [tr]
Young Man Calls Mom At Rest Stop To Tell Her He's HIV-Positive [tr]
Ride Brings Actor Chad Allen and Father Closer Than Ever [tr]
From Mocking LGBT People to Cycling 545 Miles By Their Side [tr]
After Decades of Stigma, Man Feels Comfortable in Being Open About HIV Status [tr]
AIDS/Lifecycle 10 Ride Opening Ceremonies: Video [tr]