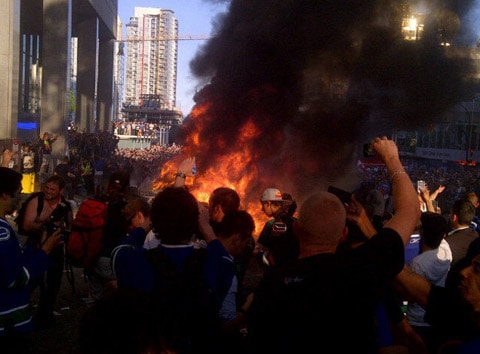 Intense, destructive rioting took place in Vancouver last night after the Canucks lost Game 7 of the Stanley Cup to the Boston Bruins.
KIRO reports: "Parked cars were set on fire, others were tipped over and people threw beer bottles at giant television screens following the Vancouver Canucks' 4-0 loss to the Boston Bruins on Wednesday night in Game 7 of the Stanley Cup finals. People chanted obscenities and some leaped over raging bonfires as riot police moved in to try to restore order in the downtown streets strewn with garbage and filled with acrid smoke."
At least 10 cars were overturned and torched, and eight people were treated for stab wounds.
Mashable has a bunch of twitpics of the event.
Watch clips, AFTER THE JUMP...
And remember, this is over a hockey game.