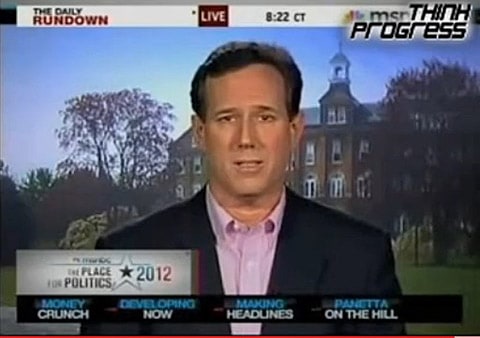 Chuck Todd asked presidential hopeful Rick Santorum about his Google problem this morning, Think Progress reports.
Said Santorum: "Unfortunately, there are vile people out there who do horrible things."
Todd asks Santorum if he thinks Google has any responsibility for the indexing of his name: "I would suggest that if they have done other things to stop this kind of vile activity and filth on the internet that they should apply it equally to me and everybody else."
Watch, AFTER THE JUMP...
As you may recall, Santorum has compared same-sex marriage to sex with dogs, has said that it's "common sense" to keep gays from marrying and adopting children, wants to reinstate the ban on gays in the military, and has said that gays shouldn't have the "privilege of government benefits" offered to heterosexual couples, yet Santorum claims he's not a homophobe.