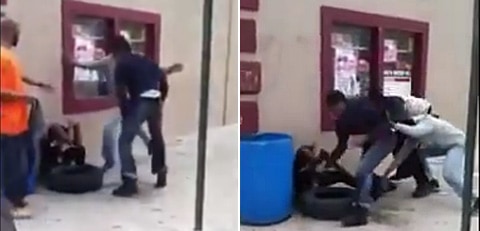 A video posted to the website World Star Hip-Hop and YouTube (subsequently taken down there for violating terms of service) shows a brutal gang attack on a man outside a grocery store in Atlanta, Georgia. In the clip, the man is beaten while another laughs and repeats, "No faggots in Jack City."
Watch (warning: graphic), AFTER THE JUMP...
The business, located at 1029 McDaniel Street SW, is a popular congregating spot for members of the Pittsburgh Jack City Gang (or "PBJC"). The group has also used the name "Jack City 1029."

After being provided a link to the video, an Atlanta police spokesperson told TSG that the clip had been forwarded to the department's gang division as well as the unit that investigates crimes against the LGBT community. Officer Kim Jones added that she was researching whether a police report was generated at the time of the attack.
At the end of the clip, a man picks up the victim's cell phone and punches him in the head. TSG adds: "While the beating video does not indicate when it was shot, Worldstar's trademark clips of street mayhem (like this) are usually uploaded shortly after they were recorded."
Watch, AFTER THE JUMP...
(via unknown highway)