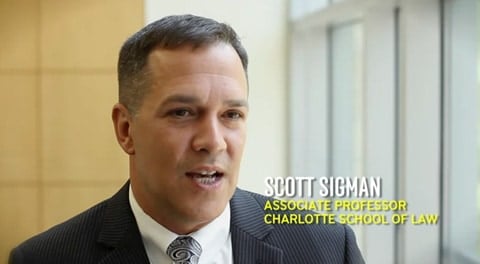 Eight Family Law professors — Katharine Bartlett, A. Kenneth Pye Professor of Law, Duke Law School; Kathryn Bradley, Professor of the Practice of Law Director of Legal Ethics, Duke Law School; Jean Cary, Professor of Law, Campbell Law School; Maxine Eichner, Reef C. Ivey II Professor of Law, UNC School of Law; Sonya Garza Assistant, Professor, Elon School of Law, Carolyn McAllaster, Clinical Professor of Law Director, Duke Legal Project, Duke Law School; Suzanne Reynolds, Executive Associate Dean and Professor of Law, Wake Forest School of Law; and Scott Sigman, Associate Professor, Charlotte School of Law — speak on the record to their concerns about the harms that will be done by Amendment One, in a video released by Protect All NC Families.
Says  Scott Sigman of Charlotte School of Law in the clip: "We can't afford to not protect our sisters, our mothers, our daughters. Frankly, it's unconscionable, and we need to vote against this amendment."
Watch, AFTER THE JUMP...