Obama's chief campaign adviser David Axelrod again attempted to bring remarks made by Vice President Joe Biden over the weekend in support of marriage equality in line with Obama's position in a conference call with reporters today, according to Ed O'Keefe at the WaPo: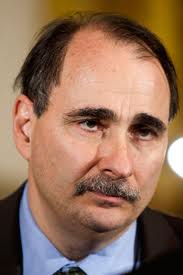 Axelrod told reporters that Biden's statements "were entirely consistent with the president's position, which is that couples who are married, whether they're gay or heterosexual couples, are entitled to the very same rights and very same liberties."
Referring to the administration's stance on the Defense of Marriage Act, which the federal government is appealing., Axelrod said: "The president believes that that law is unconstitutional and that if people are married we ought to recognize those marriages and afford them the rights to which they're entitled."
Axelrod had tweeted shortly after Biden's Meet the Press appearance:
"What VP said-that all married couples should have exactly the same legal rights-is precisely POTUS's position."
In the call today, Axelrod also tried to draw a distinction between Obama and Romney, noting Romney's donations to NOM in support of efforts to pass Proposition 8 in California:
Though Axelrod sounded reluctant to discuss the issue again Monday — after tweeting about it Sunday — he quickly contrasted the Obama administration's position on gay rights with Romney's record.
The former Massachusetts governor "has funded efforts to roll back marriage laws in California and other places," Axelrod said, adding that Romney "believes that we need a constitutional amendment banning the right of gay couples to marry and would take us backward not forward. There's a very clear distinction in this race."
Incoming Human Rights Campaign President Chad Griffin isn't buying the White House spin, he tells MetroWeekly:
"Only in Washington and in politics could someone attempt to parse the words of what the vice president of the United States said on Meet the Press today…His words speak for themselves — and they send an incredibly important message outside Washington to the young LGBT teenager hearing the vice president of the United States talk about his belief in marriage equality and the fact that he or she can grow up and have the same dreams and aspirations as their friends, their colleagues, their parents…His words can speak for themselves. I don't think anyone in America — or, I should say, I don't think anyone outside Washington — would have any question what the vice president was saying."