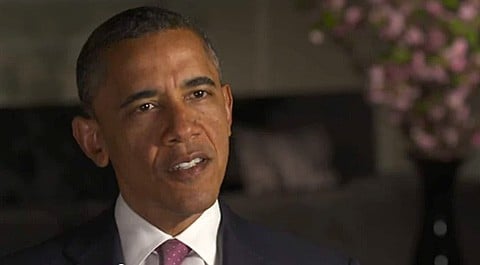 A new video from the Obama campaign narrated by Jane Lynch highlights the President's LGBT accomplishments from the repeal of Don't Ask Don't Tell to hate crimes, to why he supports marriage equality. The video also looks forward at what's at stake for the LGBT community in this election.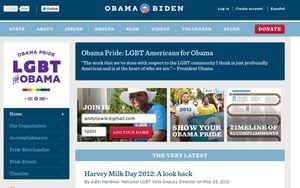 The video caps a major outreach to LGBT voters launched today which includes a new 'LGBT Americans for Obama' website which you can visit HERE.
Watch it, AFTER THE JUMP...
Earlier today on a conference call, the Obama campaign  noted that LGBT Americans for Obama is launching with trainings, phone banks and house parties in a number of states including Pennsylvania, Colorado, Nevada and Michigan. Grassroots LGBT volunteers will organize neighborhood by neighborhood and block by block, talking to their friends, family and coworkers.
Said LGBT Vote Director Jamie Citron:
"To kick off our efforts yesterday, in honor of Harvey Milk Day, OFA held LGBT focused voter registration drives across the country. Harvey was a strong believer in the power of the ballot box, a belief that President Obama also shares. The President knows the importance of making sure our voices are heard in November and to that end we will continue to make voter registration and volunteer recruitment a top priority through Pride month and into the fall."
HRC President Joe Solmonese was on the call, and wearing two hats, as MetroWeekly's Chris Geidner notes. Solmonese is one of the co-chairs for the campaign for President Obama's re-election.
Solmonese responded generally, talking about collective decision-making regarding priorities, but did specifically mention the repeal of the Defense of Marriage Act and the passage of the Employment Non-Discrimination Act as "landmark issues" that remain to be addressed.

"One of the things I've really been inspired by the president and the administration -- and this goes back to the days that we met with them in the transition offices before we were in the White House, and quite frankly, it goes back to during the campaign in the general election -- one of the things that was always clear to me, and it came from the president, was that the agenda was really a collective conversation between the president and the administration, us as a community and our allies on Capitol Hill in the House and the Senate," he said. "And that collective agreement and collective sense of where we were had everything to do with why we moved hate crimes first, we moved 'Don't Ask, Don't Tell' second. So, I think that collective understanding of where we're going is how we're really going to shape the agenda for the next administration.

"Obviously, we have landmark issues that we need to continue to address, continue to move on, like the repeal of DOMA, like the passage of a fully inclusive ENDA.
More at MetroWeekly...
Watch the new Obama LGBT video narrated by Jane Lynch, AFTER THE JUMP...