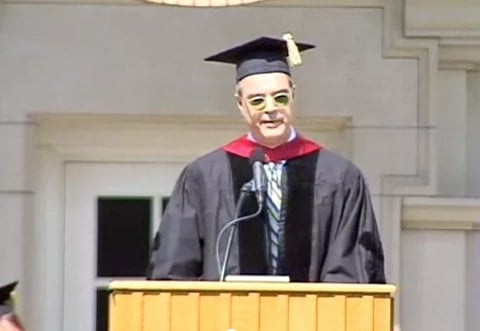 New York Times columnist, bestselling author and Pulitzer Prize-winner James B. Stewart described the defining moment of his life —his father's intolerance of his sexuality, his internal debate over whether to reject his father in retribution, and his father's ultimate realization that he was wrong — in his Depauw University commencement address to 2012 graduates.
Said Stewart:
"We lived in an extended state of 'Don't Ask, Don't Tell' which was not only stressful, but it actually came to seem to me, fundamentallly dishonest, and unloving. And so I took a deep breath, and told him and my mother that I am gay. My mother cried. My father said he loved me. And then he said that he could never condone what he considered an immoral lifestyle. No partner of mine would ever be welcome in his home."
Watch, AFTER THE JUMP...
(via eric edberg)
Relevant segment begins at 8:30…