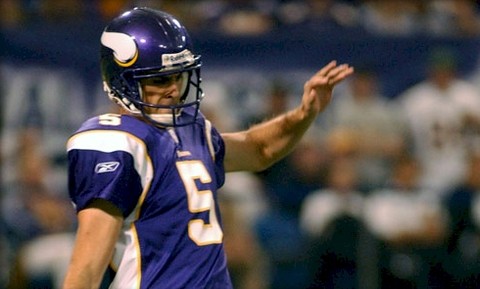 You can add Minnesota Viking Chris Kluwe to the growing roster of American football players coming out for gay rights.

The 30-year old punter in the past few months has recorded three radio ads for Minnesotans for Equality, the group fighting a November ballot that would constitutionally define marriage as heterosexual only, and more recently he sat down with the site Outsports to discuss his advocacy. Apparently it all started with a simple ask.

Someone [from Minnesotans for Equality] contacted me on Twitter and asked if I'd be interested. I said yes," Kluwe explained. "I've always believed that people are inherently the same and should have the same rights and equal protection under the law. It really doesn't matter what you do with who or whom as long as you're not infringing on someone else's rights. Everyone should be free to live their own life however it makes them happy."

Kluwe remains hopeful that equality has a slight edge going into November, but also knows that conservatives have perfected the art of fear-mongering: "We're going to have to wait to see if the people who want to have it pass resort to the kinds of fear tactics they generally use, 'If the gays marry, civilization is going to be ruined! It will be the downfall of everything!'"

Unfortunately, that seems to work with a lot of people because it hits that gut, instinctual emotional level … rather than thinking it through and realizing it's a specious argument."

As for whether he's played with openly gay players, Kluwe remarked, "No one I knew for a fact was gay, mainly because the locker room culture is the locker room culture. It's a very tough environment for someone who's gay to come out in."

Hopefully Kluwe and American footballers who support full equality — Donté Stallworth, Scott Fujita and Michael Irvin, for example — can help push that locker room culture forward. The gays can talk smack and sex just as well as straights, and we can sure dish it out, too.
Listen to one of Kluwe's radio ads AFTER THE JUMP.