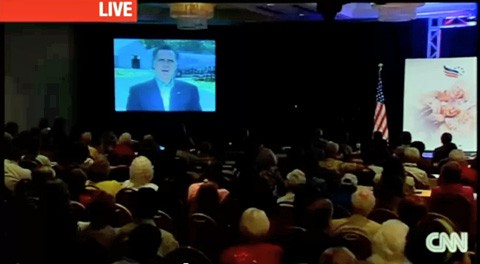 Mitt Romney gave a speech by satellite to the Faith and Freedom Coalition on Saturday. Among the things he talked about was his belief that children need to have straight parents.
Said Romney:
"We need to strengthen the commitment that exists in this country to family. I hope to be able to talk to young people and tell them how important it is to get married before they have children because the opportunity for a mom and a dad to help guide the life of a child gives them such an enormous advantage in their lives going forward."
Watch, AFTER THE JUMP...
The Politicker adds:
The Politicker reached out to the Romney campaign to see whether they felt a child could equally benefit from the guidance provided by a gay couple. Ryan Williams, a spokesman for Mr. Romney, said it is the candidate's long held belief children are better off with straight parents.

"This is what he's been saying forever," Mr. Williams said. "He's always said that the ideal setting to raise a child is with the mom and the dad."