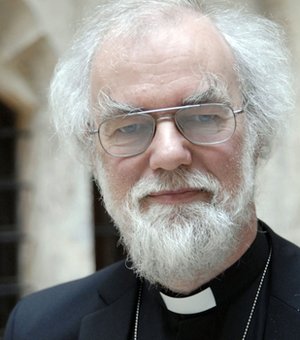 In what was probably his final major interview before resigning as Archbishop of Canterbury, the always thoughtful Rowan Williams continued to baffle liberals, conservatives, Christians, and secularists alike in a far-randing discussion with The Daily Telegraph. 
On the question of marriage equality in Britain, which Williams's Anglical Communion has opposed, the self-described "hairy lefty" maintains a position that has always frustrated marriage's opponents and supporters more or less equally. The church cannot perform same-sex weddings, says Williams, but still:
[The church] has been too – he says "lily mouthed" before correcting himself: "We've not exactly been on the forefront of pressing for civic equality for homosexual people, and we were wrong about that."

To those who fear the constitutional consequences, he says legalising gay marriage would not of itself trigger disestablishment. "We've been assured that there will be no pressure on the Church to perform marriages, but of course as things stand, every citizen has the right to be married in Church. That's alright, so long as the State's definition of marriage and the Church's definition are the same. If the State's definition shifts … then we have a tangle."
Hear more from the interview AFTER THE JUMP ...